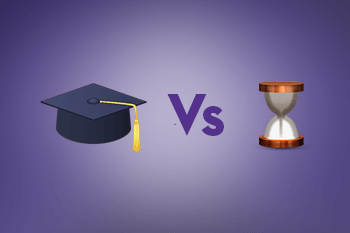 Talent Acquisition is about finding good candidates who have the best skills, education, training and experience. Education and experience both are essential and important part of your career and both can create a huge impact on your career.
Let's take a look at the advantages of both sides one by one to know it well!
Importance of work Experience
Experience builds your career and helps you to learn new skills which can be used in a real-world context. Only hands-on experience will test your capabilities and realise your weaknesses and strengths. Experience shows that a candidate can work in which working environment. The updated knowledge of the work helps you in future.
Being an active person and spending time in the workforce also gives you advantages to learn new technologies, latest trends etc.
No one can deny the importance of work experience in your life. Having great work experience in your career can create an impressive impact on your resume to attract any recruiter attention. In today's world, there's too much competition in every field, so you need that much skills and experience to crack the interview. Moreover, professional experience gains personal skills and helps to do strong work. Through work experience, you can learn how to work with others, how to communicate, develop new skills etc.
As we live in a rapidly changing era, ruled by technology. In this era, new technologies are coming into the marketplace, and innovations are launching at a novel rate. New technologies are changing the nature of employment daily. We need to adopt these for our better future.
The most important skills for the future will include:
Creativity
Decision making
Problem-solving and critical thinking
Negotiation
Cognitive flexibility
Emotional intelligence
People skills
Good Education qualification can open you many doors
Education is the most important asset in our life. Many times prove that having a college degree or master's degree can help a candidate to grow up in his working life. Not only grow to a higher level within the company, but a degree can also increase your power of earning.
Having an educational qualification proves that a candidate has studied and learned in his life.
Statistics show that the more candidates learn, the more they earn in their life. Like; A master degree holder can get higher pay than a bachelor's degree holder. Candidates having a professional diploma can get three times higher earnings than a low-level diploma holder as a high school diploma.
An educational qualification also exposes their major subject matter. Social skills are also important and have created a great impact on the professional track.
In the eyes of recruiters, education qualification means that you can do a particular job and you don't need to study from the beginning. Recruiters believe that colleges or universities teach you enough to do your job adequately. It means that the company spent less time on you and less money spent on your training.
In a nutshell, education can help you to a better performer in the career you choose.