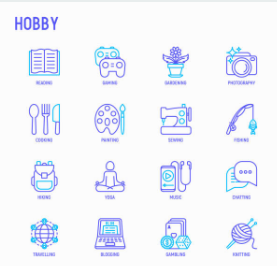 Nowadays, many job seekers overlook the hobbies and personal development sections in their resume. Of course, it is essential to focus more on the experience and skills sections, but this does not mean that you will not include your hobbies in the resume. This section is too vital for employers to know about you completely. Let's have a look at the essentialities of having hobbies and personal development in your resume.
It can help in starting a conversation
There is no doubt that most people have anxiety before entering the interview room; only a few people are there who do not feel nervous while attending an interview. In fact, it is quite normal to feel a little nervous before sitting in the hot seat. However, there are certain things that can aid in reducing the interview pressure, and hobbies are one of them. It acts as an icebreaker that relaxes your mind by starting up a conversation with other people.
For instance, it may happen that suddenly your interviewer asks you, "What you prefer to do in your free time or how do you relax your mind?". To address this, you can show your extracurricular or hobbies section in your resume. Say you love to travel, it might happen the person who is taking your interview also loves to travel, and this may lead to some talks related to traveling.
It helps to showcase that you are a culture fit
The priorities are changing among the job seekers gradually with time. They prefer to work with those companies with whom they find a personality match and can provide a flexible working place. However, if you see from the perspective of employers, the employers want to hire those employees who can perform well in their job role and will stay for a longer time to give a satisfactory result.
Allocating a hobby and personal development section in your resume can show how you can relate yourself to the culture of a particular company. A hobby shows what you know about a specific culture. So, it must be present in your candidature.
It aids in highlights the skills that are useful to the job role
Hobbies that match your job role or career can benefit you in developing your skills. Like for say, you love painting. Then, adding painting as your hobby to your resume can increase the chances of getting hired in some creative jobs. Even the stamp collecting hobby can showcase your organizational skills.
Not only this, but also adding up hobbies in the resume can help you to increase your network. Thus, you can improve your connections by talking about your interests with others. In a nutshell, you can say that the more you increase your network, the more you come in touch with the people who can aid in arranging an interview in your desired company. So, make a point of putting all your hobbies in the resume.
Overall, this is how your hobbies and personal development can increase the value of your resume. So, why wait? If you haven't included any of your hobbies in the resume, be quick and include it now.